0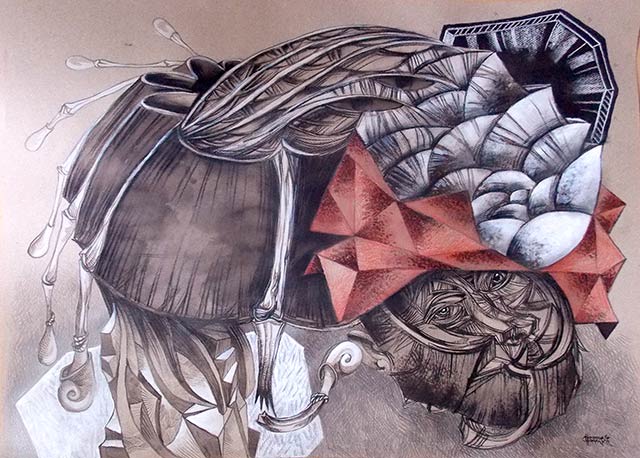 A propósito del paso devastador del huracán que recientemente azotó nuestra isla y en solidaridad con toda la gente que pasó por esa experiencia tan amarga. El hombre cara a cara con la naturaleza mostrando quien es el huésped y quién el hospedero, cuán pequeños somos ante su poder magestuoso y definitivo…y el mundo sigue desgastándose entre bombas y luchas de poderes sin ver lo verdaderamente esencial: el costo ecológico de tanta inconciencia. De que valen la hegemonía, el dinero y las victorias militares en un planeta devastado donde la vida humana es impensable. ¿Qué puede hacer el poder, el dinero o un arma sofisticada cuando una temperatura global de más de cuarenta grados abrace a todo? ¿Bajarla?
Drawing of the series: "Losses and hurricanes", made with a mixed technique on cardboard, dimensions :50cm x 70cm.
About the devastating hurricane that recently struck our island and in solidarity with all the people who went through that bitter experience. The man face to face with nature showing who is the guest and who is the host, how small we are before his ultimate power! … and the world continues to wear out between bombs and power struggles without seeing what is really essential: the ecological cost of so much Unconsciousness. What is hegemony, money and military victories worth on a devastated planet where human life is unthinkable. What can power, money, or a sophisticated weapon do when a global temperature of more than forty degrees embraces everything? To lower it?
Esta pieza esta disponible a la venta. Si usted tiene interés puede comunicarse a mi correo personal: hanna@hannachomenko.com
This piece is available for sale. If you have interest in it you can communicate to my personal mail: hanna@hannachomenko.com