0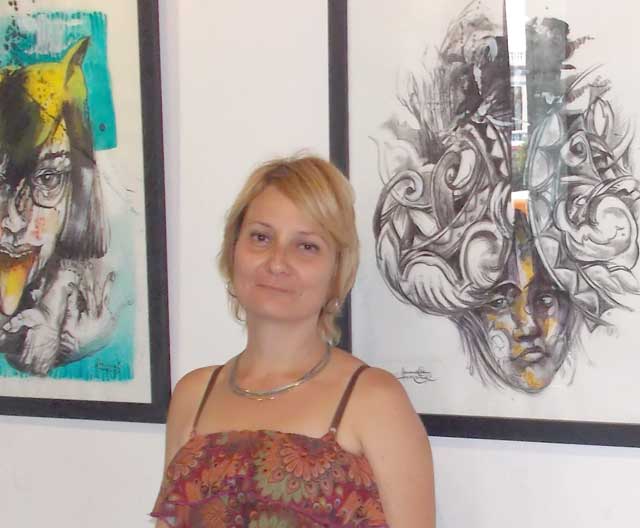 Inaugurada la muestra personal Doble Filo, de ilustraciones y dibujos de la artista cubana de ascendencia polaca Hanna G.Chomenko. Galería Belkis Ayón, del Taller de Artes Plásticas José Antonio Díaz Peláez. Junto a mi hijo (fotoreportero) y con la presencia de alumnos, profesores y amigos
This shows summarizes my work as plastic artist and illustrator, as a double-edged sword. This selection will be possible to know the particularities of each medium and meeting points. From the drawings with motifs and invoices generated from the almost brutal honesty of the intimate, stripped of that which does not involve the absolute manifestation of being introspective, even poetic images designed to serve  the discourse of the other in an interpretive exercise, the world reference of the writer and loyalty to their purposes, conceptual and aesthetic, because beyond that image itself is due to a larger work: the book as an autonomous object.
HANNA G.CHOMENKO. Havana, Cuba, 1973.
Illustrator and artist of Polish descent Cuban graduated from the Academy of Fine Arts of San Alejandro in 1992, graduated in Theoretical and Social Studies of Culture, of the University of Havana. So far has to his credit with twenty solo exhibitions and forty-seven exhibitions inside and outside of Cuba. He has received several awards for his work within the country and his works are in countries such as France, Canada, Switzerland, Spain, Portugal, Poland, USA, Uruguay, Mexico, Germany, Puerto Rico. Latin American Collection Fine Art Galery Meredith-Kelly Collection Art America, Panama. He is a member of the National Union of Writers and Artists of Cuba, UNEAC and the Union of Journalists and Writers of Cuba, UPEC. In 2006 he was awarded the Medal twentieth anniversary of the Hermanos Saiz Association, for young intellectuals.